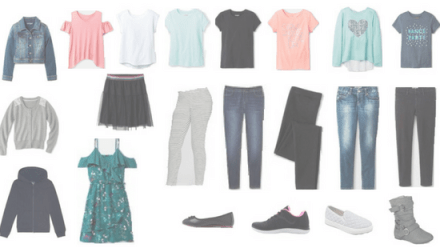 How to start a capsule wardrobe for kids
You often read about capsule wardrobes for adults, but are they feasible for children?? Definitely! But how do you start a capsule wardrobe for your kids??
A closet full of clothes
Children's wardrobes are often overflowing. Makes sense because kids grow fast and they mess up more, so their clothes have to be washed more often. But is such a full wardrobe necessary?
For adults we know the capsule wardrobe. Could you also make this for a child?
Capsule wardrobe
A capsule wardrobe is a wardrobe consisting of a number of clothing items. Part of this wardrobe consists of timeless garments and part of changing, fashionable garments. The idea is that everything can be mixed and matched.
The garments are of good quality, so you build a sustainable wardrobe. This ultimately reduces the need to purchase new clothes. Of course, children are still growing and you will need new clothes sooner. But then if you look at the size your child is in now. So does he or she wear everything in the closet?
Is it not true that there is an abundance of clothing?
Children's clothes that can take a beating
Children's clothes should be able to withstand a lot and if you want to get started with a capsule wardrobe, it is wise to go for good and sturdy clothes. Clothing that can take a beating. Clothes children can play, romp and climb trees in.
They shouldn't be afraid that their clothes will break and therefore children's clothes should be sturdy. But also with nice bright colors and fun prints. If you want to buy a capsule wardrobe with sturdy, cheerful clothes now, then Quapi is the place to be.
Quapi is a Dutch brand and one of the most popular fashion brands at the moment. With their clothes you could make a good capsule.
What's in a capsule wardrobe
Looking at children, what could be in a capsule wardrobe?? Of course it depends on the age of the child, but also on how often you wash clothes. If you are just potty-training your child, you will need more clothes because of accidents. Online, there is no single number, but on average one assumes 5-10 sets in and capsule.
Now I have two boys and they have 4 long pants (3 x jeans and one sweatpants) and 3 shorts, enough. For girls who wear skirts or dresses, the number might be a bit more again. But looking in general could be in a capsule wardrobe for kids:
1 winter coat/ 1 summer coat
2 pajamas
8 sets of underwear
8 pairs of socks
1 pair of dress shoes/ 1 pair of sneakers
1 pair of slippers/ or warm socks
5 to 10 clothing sets with:

5 -10 long-sleeved shirts like cardigans, blouses and sweaters
5-10 items as long pants, jeans, shorts, skirts
5-10 shirts without or with short sleeves

For summer extra herewith

1 pair of sandals (or slippers)
1 summer hat or cap
swimwear

And for the winter extra

1 pair of winter boots or good winter shoes
1 pair of rain boots
1 set of mittens, scarf and hat

Provide basic pieces

This is a capsule wardrobe that children can do well with. Here it is important to go for good quality clothes, so they will last longer. Make sure you have basic colors that are always appropriate and shirts with a print that you can combine with different pants and in winter with a vest over it. A lavish color is also best.

Make sure you can combine this again with several basic pieces.